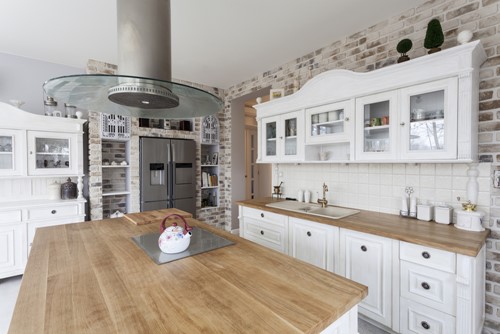 Image by Photographee.eu from Shutterstock
Having a beautiful home is wonderful, but having a beautiful home with an elegant and functional kitchen is fantastic. Updated kitchen décor and finishes are an on-trend way to create a warm gathering place for friends and family. A real wood countertop is a top option for perfecting the natural kitchen décor motif.

Wooden Countertop Styles
There are distinctive styles of wooden countertop materials available, and each serves a different purpose and esthetic.
Butcher Block Countertops: For countertop that allows you to slice and cut directly on the surface, the butcher block is your best choice. The wood is two to three inches thick of alternating species and can withstand damage from chopping and dicing with proper care. Available in various wood mixtures as end-grain and edge-grain, its hardness and color options make it easier to choose the one that fits into your kitchen theme.

Reclaimed Wood Countertops: For people who appreciate the rustic look, a repurposed wood countertop is a great option. Currently among the trending countertops, reclaimed wood is relatively simple to find and source locally. Most reclaimed wood countertops come from recycled or discarded wood.

Live Edge Wood Countertops: Made from planed but not trimmed raw wood, a live edge countertop retains the original shape of the tree. The unique thing about this countertop is its rustic and uncommon look; it curves inward in some areas and rounds out in others, giving your kitchen or bar area a beautiful and unique look.

Solid Wood Countertops: The solid wood countertop option works well with all kitchen designs, creating a timeless and traditional look for your kitchen. Thick planks of mahogany, walnut, knotty alder, or other hardwoods waterproofed with acrylic polyurethane come in flat, dull, satin, and semi-gloss finishes for an elegant addition to your countertops.
Your Choice of Wood
Ensure that the design, grain, and finish of the wooden countertop you choose is appropriate for its purpose. Hardwood like maple, teak, oak, chestnut, and mahogany make great countertop material, especially if you intend to chop and slice directly on the counter surface. For a more sustainable option, bamboo, while not technically wood, is an attractive and durable choice.
Your kitchen countertop has a significant impact on the look and feel of your room. For best results, consult with or hire a professional contractor who is knowledgeable about the installation process for these unique surfaces.