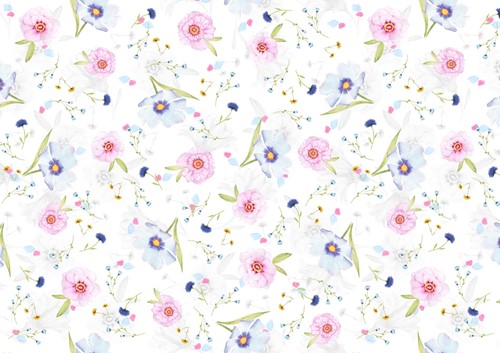 Wallpaper is making its comeback in 2020, much to the delight of today's edgiest designers. Fitting wallpaper, with its vintage appeal and old-time reputation, into modern spaces presents a unique challenge. But then again, today's wallpapers bear little resemblance to the paper our parents used in the '60s. Deceptively easy to apply, contemporary or even vintage wallpaper is an affordable way to turn a ho-hum space into a vibrant and interesting home.
Industrial
Industrial design comes and goes, and it's in again this year in a big way. You can cash in on the trend without breaking the bank by hanging wallpapers made to mimic building materials such as reclaimed wood or metal. A little goes a long way when papering a space to look like exposed brick. This is why we recommend sticking to a single accent wall in lieu of papering your whole room.
Ombre
Ombre is a trend that's new to wallpaper, but it creates a clean, minimalist effect that pleases the eye. Gradients can be shades of gray or transitions between colors of light to dark. They can even feature misty, moody mountains as a background for simple furniture pieces to add depth and shading to your space. Wallpaper that graduates from light at the top to dark or patterned at the bottom makes low ceilings appear taller, too.
Exotic
Tropical is trending in 2020. So are Asian-themed papers that boast botanical prints. Bold and busy, these wallpapers bring a bit of culture to your bedroom or bath, and they're a pleasing welcome when you return home after a long, hard day at the office. Busy prints like these are ideal for wide-open spaces that need color and pattern to bring them close and make them feel cohesive.
Graphic
Graphic wallpapers, ones that feature bold lines and geometric shapes are rumored to be big in 2020. Wallpapers such as these bring order to a room, actually evoking the sensation of a calm and organized life. Graphic wallpapers pair well with the busier florals of couch cushions and with textures such as corduroy or chenille.
Classic Blue
Wallpaper that features classic blue colors is expected to soar this year, after Pantone's decision to choose it as their official color of the year. Expect to see classic blue, and it's contrasting and complimentary colors of orange and purple, adorning America's walls and ceilings this year.
If you're considering adding an accent wall of wallpaper this year, you'll have multiple varieties from which to choose. Try bringing texture and pattern to your space by shopping by the roll this spring instead of in the paint department.