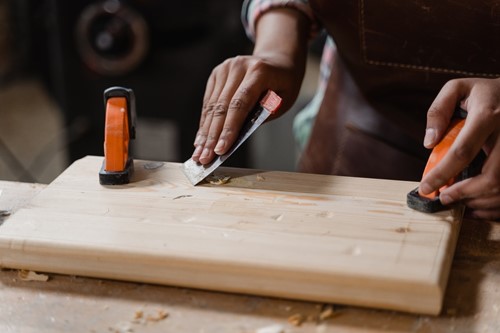 Home remodeling, also called home renovation, is one of the best ways to bring new life into an old house. Remodeling projects can replace outdated elements, boost aesthetics and increase functionality all at the same time.
If you're searching for new home renovation ideas to get the most out of your home or just hunting for a place to start and need a few new home construction ideas, consider these expert remodeling ideas:
Upgrade your kitchen island
If your kitchen island seems more in-the-way than useful, it might be time for an upgrade. While you have the option to remove a kitchen island entirely, you can also make it a functional and aesthetically pleasing focal point of your kitchen.
Consider adding a countertop overhang to create a breakfast bar. Adding a sink increases flexibility with cooking and cleaning, and plenty of cabinets and shelving makes an island an excellent storage solution.
Finish or refurbish your basement
If you have an unfinished basement, finishing it is one of the best home remodeling investments you can make. If you have a finished basement without a purpose, transform it into a usable space.
Try installing a few built in shelving units with open shelves to give your basement a home library feel, with a cozy nook for reading. Perhaps you'd rather utilize the industrial style by adding a few pieces of metal pipe decor to the walls and installing an entertainment center to give it a gaming and entertainment feel.
If you frequently have company, you can create a great room for your guests by including a few room dividers or half walls separating a downstairs dining area from the sleeping and living areas. The possibilities are truly endless when it comes to your basement.
Replace cabinets with open shelving
Wall-to-wall cabinets in your kitchen or bathroom can feel cluttered and outdated. If you want to change the entire aesthetic of a room without sacrificing functionality and storage space, consider removing the cabinets and replacing them with open shelving. Floating shelves are a sleek, space-efficient way to store and display everything you need in your kitchen or bathroom. Add containers or baskets for organization and decorate with your favorite accessories for an effective and personalized home remodeling project.
These are just a few of the home remodeling ideas that can help you make the most of your living areas. Consider these ideas the next time your home needs a refresh.