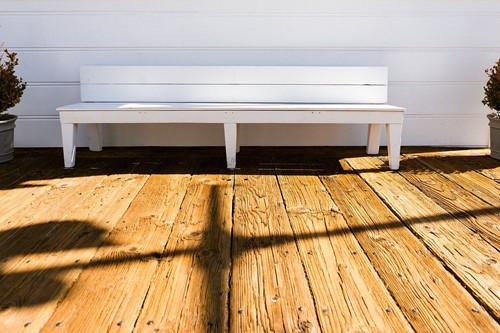 A deck adds valuable outdoor living space to your home's square footage, but to be an asset, it needs to be well-maintained. If your deck has missed a few annual cleanings or is showing popped nails, splintered boards or water damage, consider resurfacing it instead of replacing it. The money you save will be significant. Here's how:
Inspect Your Existing Deck
Look for rot, termite damage, warped or weakened boards and missing screws. Fix any problems you find by replacing individual boards and railings with similar materials. Make sure everything is structurally sound and sanded smooth before moving forward with the next step.
Choose the Right Deck Wash
Step two involves giving your deck a good scrubbing to remove all traces of algae, dirt, mildew or mold that may have formed. You'll need a good wire broom or brush, eye protection and waterproof gloves, because some deck wash can be damaging to skin. You'll want to protect any nearby plants as well. Cover them in plastic while washing down your deck.
Deck wash can be painted on, sprayed on with a garden hose, or applied with a pressure washer. A simple mixture of laundry detergent, bleach and warm water may be all it takes to begin bringing your deck back to life. Once applied, work the cleaning solution into the wood using your brush or broom. Rinse clean and allow the wood to dry before proceeding to the next step in resurfacing your existing deck.
Apply Deck Stain
Lastly, you'll need to re-stain to apply a protective coating to your freshly cleaned decking. For older wood that still shows imperfections, try using a semi-transparent stain, instead of something that's clear. This will help to hide flaws and resistant stains.
You can spray, roll or brush the stain onto the deck, or you can use a combination of techniques such as spraying the stain down, then using a brush or roller to even out puddles and to trim out around railings. Apply the stain evenly, and then add the second and third coats while the stain is still damp. This helps keep old, thirsty wood from absorbing all the stain. Once applied, you'll need to re-stain your deck every other year to keep it looking its best.
The total cost to replace your old deck can run upwards of $10,000, says ProRemodeler. Compare that with the $4,000 you might spend to replace worn boards and connectors, and you're looking at a significant savings. If your existing deck is worth repairing, that's usually the better option. But it must be structurally sound by the time the work is done. If you're unsure, call in a pro for an inspection.