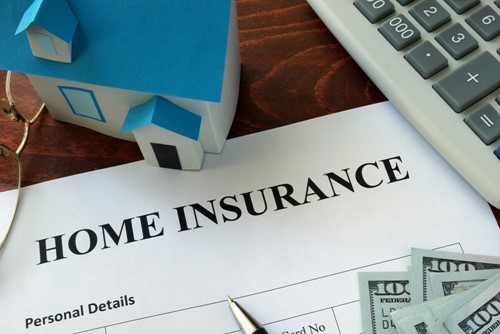 Photo by Designer491 via Shutterstock
If you're new to homeownership, one of your first expenses is homeowner's insurance. Not to be confused with mortgage insurance, your homeowner policy protects you in the event of a catastrophe.
Factors that Impact the Cost of Home Insurance
The cost of your home is only one factor in an extensive list of how insurance companies calculate premiums. Just like with car insurance, location plays a big part, as does age and construction. Then there's your credit score and claims history. Here's a breakdown of the factors that most determine the cost.
Location, location, location. Living in a coastal area drives up the price of the home and the price of insurance. If there's a chance a tropical storm or tidal flood can impact your home, you'll pay extra to cover. The same is true of homes in tornado alley. However, living next to certain first responders may lower parts of your homeowners insurance. For example, living close to a firehouse usually reduces the cost of fire coverage because fire personnel can get to you sooner. Likewise, living in areas that may be higher risk, such as a high crime area, may increase factors of your homeowners insurance, like damage and theft.
Construction materials is another consideration. Brick, stucco, fiberboard, or stone exteriors improve your home's chances of surviving a fire over wood shakes or wood siding. That old Victorian is lovely, but wood burns quickly, so you'll pay a premium to cover it.
Roof age and composition. Roofs are expensive. A flat roof costs more than a sloped roof, and a roof older than twenty years carries potential storm damage replacement costs. You'll pay for that. And, just like with siding, you'll pay more for a wood shake roof due to its potential to catch fire.
Homes older than about 40 years cost more to fix when damaged. And, they have older major systems that can break inside walls and under floors causing thousands in needed repairs.
A few other things impact the premium too. If your credit score is low, typically the insurance company asks for more money upfront and a higher premium. You'll also pay more if you made multiple claims within the last five years. Of course, if you're a first-time buyer this wouldn't apply to you. Coverage for your personal property increases with the value of that property. If you own expensive jewelry, several computers or electronics, plan to pay more to cover them.
You can reduce premium costs by installing a security system, taking care of maintenance items, replacing major systems (wiring, plumbing, HVAC) and updating the roof. For more ways to learn how to reduce your insurance costs, ask your real estate professional for advice. Be certain to shop and compare prices and coverage too.